Industry
With over twenty years in the High Performance Computing (HPC) sector, EPCC as part of the ARCHER team are committed to bringing the world of HPC to all industrial and commercial sectors. With a range of inititives, members of our team can work with commercial partners to help overcome any barriers they may have using HPC.
We have a long history of working alongside academia, industrial and commercial partners on world leading HPC. Our research collaborations can take many forms and are funded through a variety of mechanisms that include the European Commission, UK Research Councils and Scottish Enterprise.
We have worked across a varied range of sectors including aeronautical, engineering, manufacturing, astronomy, retail, finance, medical, agricultural, oil and gas.
Getting Access
There are variety of methods for commerical organisations to gain access to ARCHER. Whether as part of a research collaboration or working within a larger established consortia or even asking for assistance on a consultancy basis. If you wish to make use of ARCHER then please get in touch and we can then direct your interest appropriately. Please contact us via the ARCHER helpdesk.
Training
The ARCHER team provides a varied programme of training courses. These take place at various locations around the UK and can be tailored to suit particular needs and requirements.
Anybody is welcome to attend these course but there is sometimes a fee if you are from a non-academic institution. If you are from a commercial organisation and wish to attend a particular course or arrange training at your site by the EPCC team then please contact ARCHER Training.
Further training information and a list of upcoming courses can be found here …
Collaborations
A recent example of a Case Study which saw Industrial Partners working alongside academic colleagues.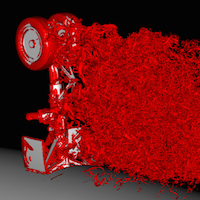 The ARCHER National UK Supercomputing Service enabled ARA to perform its largest CFD simulation ever: the simulation would never have taken place if ARA had had to rely on its in-house computing resource. The simulation results for the civil aircraft landing-gear geometry, alongside the wind-tunnel data taken in a companion experimental test,has allowed the numerical approach to be validated and additionally insight into the complex flow physics obtained. Computations such as this will pave the way for increased use of CFD in landing-gear assembly design, leading to improved designs which are more environmentally friendly.